Stage & Promotional Items
Music Stand Banners, Stage Backdrop Banners & Stands, Vinyl Banners, Indoor Roller Banners, Printed Posters, Flyers & Tickets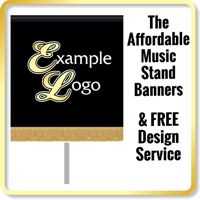 Please scroll down the page & find below a range of excellent, cost effective solutions to enhance the image of your organisation or help to promote concerts, events, fundraising etc. But we suggest that you do NOT purchase any items just yet, but liaise with us about what you need and ensure the final design is correct before printing.
Obviously we will need artwork from which to work. This can be supplied by:
a) You emailing us artwork created by yourselves. Please ensure this complies with the conditions found in our Artwork Setup Guide which can be viewed in the main menu 'Help' pages.
b) Using our Free Design Service. This provides approximately one hour of our designers time. Draft ideas sent to you for approval and allows for some amendments to be be made if not quite right.
c) It maybe that you have your own logo that you would like incorporated into our design. If so, please see our Artwork Setup Guide to ensure it is sent in the correct format and quality
To help us create the best solution for you it would be very helpful if you can tell us below what you have in mind.